Text: APC  Photo: APC
Subotica, Horgoš, Kelebija, Kikinda, 03 August 2019. –  APC/CZA staff regularly visit border areas in northern Serbia, migrant and refugee reception camps and open locations where migrants and refugees are located along the borders with Croatia, Hungary, Romania and BiH. APC / CZA mobile teams talk with refugees, provide them with legal information and psychosocial assistance. Through conversations with refugees, APC / CZA mobile teams gathered information about the migrant and refugee situation at the mentioned borders, about the main problems, crossing borders attempts, violence, inhumane and illegal treatment and violation of the rights of refugees and migrants, as well as illegal push-backs conducted by the police along the northwestern borders of Serbia.
The APC/CZA collects information on the situation in camps, the living conditions of migrants and refugees and their treatment by camp administrations, representatives of institutions and citizens, respect for the rights of asylum seekers and migrants, problems, potential discrimination, violence, trafficking, smuggling and other challenges of asylum and migration in local communities.
APC/CZA lawyer and psychologist help refugees to report violence, corruption, discrimination, smuggling, crimes, labor and other exploitation, trafficking, assist them to express their asylum intention and to apply for asylum if they seek refuge in Serbia. In addition, the APC/CZA psychosocial team provides psychological assistance and empowers migrants and refugees, helping them to cope with stress and other consequences of violence, injuries, inhumane behavior and illegal push backs, helping them to obtain health care and get a caregiver if they are unaccompanied minor. The APC/CZA teams help them to get social protection and assistance from local centers for social work and the APC/CZA team also empower migrants and refugees to overcome existing challenges and threats and reduce their own vulnerability.
Through work on the field, talks with migrants and refugees and insight into the local situation, from July 22 to August 2, 2019, APC/CZA mobile team identified current problems, challenges and practices in the north of Serbia and along north- western borders of Serbia.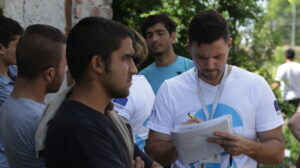 Intense attempts of refugees to cross the Hungarian and Croatian borders and illegal push-backs to Serbia
On July 24, the APC/CZA mobile team visited an open location near Horgos where large number of migrants try to cross the Hungarian border every day. During this visit, APC/CZA legal and psychosocial officers spoke with migrants, including at least 10 unaccompanied minors. A.J. (15, Afghanistan), an unaccompanied minor reported, he doesn't want to go to camp because he hopes to succeed every time he goes for the Game (illegal attempt to cross the border), even though he's tired. He tries to cross the border at Horgos at least twice a week by hiding in the trailers of cargo trucks, but in most cases, he was caught through the scanner fixed at Hungarian side of the border, and then he is illegally pushed back to Serbia past the official readmission process. As A.J. it states, his last attempt to cross the border was on July 23 during the night, when 20 migrants were deployed in the parking lot at the Horgos border crossing entering the trailers. He and his friend were spotted by Hungarian police on a scanner on the Hungarian side of the Horgos border crossing, photographed, and returned without violence. They were told to go through a gate near the Horgos border crossing, as it became routine and regular practice.
As of last week, 10 new migrants, mostly unaccompanied minors, are in an open location near Horgos, half of which them have never been to any camp in Serbia. Their presence as well as their location is reported to the local social work center.
APC/CZA mobile team consisting of lawyer and psychologist spoke with K.N. (23, Afghanistan) who tried to cross the border during the night of July 23 by hiding in a truck trailer. He stated that he received a punch on the face by a truck driver, who spotted him near his trailer in the parking lot. The Hungarian police officers observed this situation without intervention. After this, K.N. returned to the Pustara location near Horgos.
During a visit to an open site near Horgos on July 26, APC/CZA staff members spoke with M.A. (18, Afghanistan), who was pushed-back to Serbia by the Hungarian police on July 25th. On the same occasion, the Hungarian police pushed-back 50 migrants who tried to cross the border hidding in several trucks. This group had previously stayed in an open location near Horgos, called Pustara. They crossed from Serbia to Croatia unseen, then from Croatia to Hungary. When the trucks stopped at a Hungarian highway for toilets, the migrants were spotted and captured by Hungarian police. They were photographed, their data was recorded, and their phones were smashed. According to M.A., the migrants who were captured were transported by Hungarian police to a small gate near the Kelebija border crossing and pushed-back to Serbia. They did not notice or encounter the Serbian police, and the Hungarian police had not previously communicated with them at all.
APC/CZA lawyer and translator talked with refugees on August 1 at an open location in Subotica near the train station about the details of push-backs conducted by Hungarian police daily.
S.A. (20, Afghanistan) is one of the migrants who resides at this location, and he stated that every day, 3-4 migrants from that location attempt illegal crossings to Hungary. He also stated that the controls at the Serbian border are increased. Migrants said that Serbian police take them to the police station in Kanjiža if they find them in Kelebija area on their way back from Hungary. Serbian police officers take them to the police station where they take their fingerprints, take a signature on a document which they do not understand and cannot read it and then they return to the same location at the train station. The last time S.A. had this experience on July 24, and as he stated, there were no problems with the Serbian police, except that they signed a document for which they did not have a translation and an explanation of what was it.
When the APC/CZA mobile team visited an open location at the Subotica train station on August 2, there was many injured migrants, who were beaten by Hungarian border police as they tried to cross the border at the Kelebija border crossing on July 31, hidden in train.
Z.S. (13, Afghanistan) said that he was with a group of 10 people trying to cross Hungarian border illegally, by hiding in the wagons. There were 5 minors in this group. He showed his left hand to the team where he received a strong punch, and the wound under his swollen wrist began to red. As he stated, he and other migrants were hit on the back and knees by police officers, and his body was still sore. Everyone was stripped of their backpacks and phones, as well as socks and sneakers, and was illegally pushed-back to Serbia. He came from Kelebija border crossing with the same group barefoot.
After talking with Z.S, S.Z. (16, Afghanistan) the APC/CZA team reported, he was unable to stand and cannot walk and he was bouncing on one leg to get out of place he was standing. During the encounter, he complained about severe chest pain when inhaling, and that the pain is still not diminishing, although it has been two days since he was beaten by Hungarian police officers. S.Z. showed APC/CZA team members his foot, which was visibly swollen around the ankle. He can't stand on that leg, and if he does, he feels strong pain. Next to him stood F.A. (15), who was also in the group who tried to cross the border, stating that he had been hit in the mouth. During this push-back, the police officers took the phones from the whole group and smashed them, seized their backpacks and forced them to take off their socks and shoes. They were all photographed and then returned to Kelebija by police vehicle. Police officers pushed them back through a small gate on the fence. They walked barefoot back from the border crossing to the train station in Subotica for a total of 3 hours. Serbian police were nowhere in sight at the time of the illegal push-back.
Migrants had no communication with Hungarian police officers, either during beatings and push-back, or during recording or photographing.
On July 30, APC/CZA officers visited transit center in Principovac, where they spoke with J.R. (33, Bangladesh) about his attempt to enter Croatia illegally through Bezdan with a group of 15 refugees from Bangladesh and Afghanistan. After crossing the river, the Croatian border police returned the entire group by police boat to the Serbian side of the coast, without recording. From there they returned to Sombor, and then to Principovac.
When visiting an open location at the Subotica train station on August 1, the APC/CZA mobile team spoke with migrants who intensely tried to cross Croatia from this location and then return after failing to do so. B.S. (20, Afghanistan) stated that he had crossed the river by boat with a group of 14 refugees from Afghanistan. Previous night, they crossed to Croatia and then they crossed to Hungarian territory on foot. They were captured by Hungarian police and the whole group was returned to Serbia near Horgos. He did not want to give any more details about this push-back.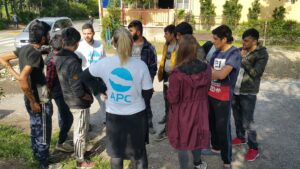 Denial of asylum rights and push-backs of migrants to Serbia by Bosnian and Croatian police
Another open location with many migrants, regularly visited by APC/CZA mobile team, is an abandoned factory "Grafosrem" near Sid. On July 30, APC/CZA lawyer and psychologist visited the abandoned factory and spoke with migrants staying there. APC/CZA staff heard of push-backs from Bosnian and Croatian police, informed migrants about the importance of registering and the benefits of accommodating in one of the camps where they could have a safe stay and access to water, food and health services. During a talk with W.N. (24, Afghanistan) and M.K. (20, Afghanistan) APC/CZA officials find out that the two have been in Serbia for 2 months and have been accommodated in a transit camp in Adasevci before coming to the abandoned factory. According to them, on July 28th they were pushed back from Bosnia and Herzegovina after a 45-minute walk inside the territory. They crossed to BiH using the border bridge on the Drina River at night in a group of three. They did not know the name of the place where they crossed. When they met the Bosnian police officers, they told them "We want asylum", and Bosnian police officers said to them that they cannot stay there and were denied access to the asylum procedure. They were told to return on foot across the bridge, there was no recording or violence towards migrants. Upon their return to Serbia, they did not meet Serbian police officers. W.N. also says that on the 18th of July, he attempted an illegal crossing into Croatia, first walking on foot near Batrovci, along the road no. 55, and at the truck stop called "Three Cafes" he got into a trailer of one truck which drove him to Zagreb. In Zagreb, he was arrested on the street and taken to a police station, where he spent 12 hours. He was photographed, his fingerprints were taken, and he was taken to the border with Serbia by a police vehicle. He was ejected from the vehicle near Tovarnik, from where he continued to Serbia on foot. He entered the Serbian territory near Šid. W.N. has so far tried a total of 17 times to cross into Croatia illegally, and has been beaten every time, except that last time when he managed to come to Zagreb.
M.Z. (18, Afghanistan) reported that on July 26, after 7 km of walking along a railway line, he was captured by Croatian police officers near Tovarnik. During his encounter with APC/CZA mobile team, he had great difficulty speaking, and we were able to learn that his neck and throat were hurt from the hits he received from Croatian police officers after he was caught. He seemed shocked and completely disoriented. As he stated, he was alone. Four police officers threw him to the ground between the rails, his stomach on the ground, his hands above his head, and kicked him on the back and legs, and at the end, one police officer pressed his neck with a boot, kicked his leg and hit him with a boot over his neck, while M.Z. was laid down. He was then told to go back along the railroad to Sid, he was forced to take off his shoes and to walk barefoot along the railroad back to Sid. he was not recorded in any way, and he did not meet the Serbian police on his return.
R.A. from Morocco (22), who spoke with APC/CZA staff on July 30 at an open location in Sid, reported that he tried to make illegal crossings to Croatia every day, most often on foot, following a railway, in a group of 3-4 people. He says that they are always noticed by the locals almost every time they come to Vinkovci. Local people call the police who come in minutes. Each time, R.A. said to the police that he wanted asylum, and every time he was told that there is no asylum for him. According to R.A, he was last put in a tray with another ten refugees 5-6 days ago. Croatian police officers drove them to Tovarnik and then, while migrants were leaving the vehicle one at a time, the police officers hit or kicked them once or twice. Afterwards, they were shown a route to Sid, in which direction they returned to the border with the police on foot. They did not meet the Serbian police on their return to Serbia.
Slovenian police return refugees to Croatia, where they have been forcibly pushed back to Serbia
R.A. has so far been denied asylum 5 times and returned from Slovenia to Croatia. He stated that each time, an interpreter at the police station was present, he gave a paper to the group of migrants, which they are told is an asylum statement, and as soon as the papers were signed, they are being pushed to Croatia by police. Push-back to Croatia happens after spending six to twelve hours at a police station in Ljubljana or Maribor (where they take their fingerprints and take pictures of them). After that, Slovenian police officers put the migrants in a vehicle, drive them to the border crossing and deliver them directly to the Croatian police officers. The Croats then, usually without registration, put them in a vehicle and brought them to Tovarnik, where they hit them with their fists or kick them after exiting the vehicle, and then force them to return to Šid on foot. They do not see the Serbian police on their return and have no communication with the Croatian police. The question remains whether Slovenian police return refugees to Croatia in accordance with readmission rules, or whether they are illegally pushing refugees.
S.B. (33) from Algeria told APC/CZA team members that he had been pushed back from Slovenia the previous night (29 to 30 July). According to him, on July 24, he crossed into Croatia by walking along the railway near Šid, then he took the regional road, where he walked for two days. From Varazdin, he went via Zagreb to Maribor by taxi. There were two of them in the taxi. In Maribor, they are apprehended by the Slovenian police and taken to the police station, where they were held for 2 days and received neither water nor food. They were insulted and shouted on. Slovenian police officers told them that there was no asylum for them, they took their fingerprints and photographed them, and returned them to Croatia, handing them over to Croatian police officers, who then brought them to Tovarnik and pushed them back illegally to Serbia.
Another testimony about the push back of Slovenian police was heard by APC / CZA officials when visiting an open location at a bus station in Loznica.
M.J. (25, Afghanistan) was pushed back from Slovenia to Croatia on July 20th. He came from Bosnia and Herzegovina to Croatia and then to Slovenia. He was captured near the border with Italy by Slovenian police and then handed over to Croatian police, who then returned him to Serbia. He states that he told police that he wanted asylum in Croatia, but that they did not react to it, and that they told him that he will return him to Serbia. He demanded that he wants to return to BiH, and said that he entered Croatia from there, but they did not release him. He was returned to Serbia in the vicinity of Tovarnik illegally and without the knowledge and presence of the Serbian police.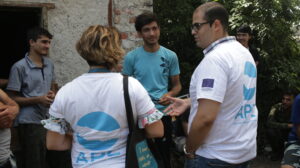 Push backs from the Romanian police
During a visit to the camp in Sid on July 30, APC/CZA legal and psychosocial officers spoke with B.J. (25, Iraq), who is staying at the camp with his brother, wife and their five children. They have been in Serbia for a month. B.J. states that he has repeatedly tried to cross into the territory of Croatia, but to no avail since he was captured by the Croatian border police every time. He stated that he also tried to enter Romania, near Kikinda. He tried to cross the border in the direction of Timisoara where he was caught by Romanian border police. Romanian police recorded B.J. by photographing him, he signed documents whose contents he did not understand because he did not have an interpreter, and then he was put in a vehicle and transported to the Serbian border, where he was taken over by the Serbian border police following the invitation of the Romanian police. B.J. he did not know in which city he received the verdict of the misdemeanor court, nor where he paid the fine for the offense for which he was prosecuted in Serbia (illegal crossing of the border). The paper he received was not with him because he had destroyed it.
On August 1, APC/CZA team members spoke with S.D. (16) and R.R. (16) from Afghanistan during a visit to the Krnjaca Asylum Center. They tried to enter Romania on July 27 but were returned by Romanian police as soon as they crossed the border, without violence. H.N. (22, Afghanistan) had the same experience. he managed to cross the border with Romania in early July but was immediately captured and returned to Serbia by Romanian police, also without violence.
During a talk with W.K.A. (19, Afghanistan) in Subotica on August 2, APC/CZA officials learned that on July 30, a group of 29 migrants (including one minor) was illegally deported from Romanian territory by Romanian border police. The whole group entered the territory of Romania from Serbia near the town of Medja. Romanian police registered migrants by photographing them with tables with their names written on. During the capturing there was no communication with the police and the migrants were not allowed to seek asylum. Romanian police then called the Serbian border police and handed them over a group of migrants. Serbian police did not prosecute this group, and they returned to a camp in Kikinda and to an open location in Subotica.
Push-back by Serbian police to Macedonia
About 20 refugees, mostly from Afghanistan reside in an open location near Horgos border crossing which was visited by APC/CZA mobile team on August 1, 2019. Attempts to cross the border with Hungary from this location are conducted on daily basis. S.M. (22, Afghanistan) told APC / CZA team about the push-back he experienced from Serbian police when he tried to enter Serbia from Macedonia. On his first attempt of crossing, which occurred on July 20, a Serbian policeman punched him with his baton on his back and told him to return to Macedonia. In the next attempt, which happened later that day, he successfully crossed the border without the presence of Serbian police. He has been in Serbia for 11 days, of which he spent 5 days in a camp in Bujanovac.
KIRS officers kicked the entire family out of a camp in Sid due to an incident of one family member
During providing legal information and psychological support to refugees in Sid camp, APC/CZA lawyer and psychologist were approached by F.M. (39). She complained about the problems she has been facing in the camp, and asked us to wait for her husband, who is somewhere nearby, as he sleeps outdoors. As we learn, her husband H.H. (39) 10 days ago (July 20), after getting drunk, he argued with some migrants at the camp and with KIRS officials, he yelled and at one point broke the window with his own hand. Subsequently, KIRS officers expelled the entire family, that is, him, his wife F.M. and their son of six and a half years. As the spouses describe, they were evicted early in the morning, and in the evening KIRS received back the wife and son, but the husband was left outside. H.H. states that he sleeps outside, still wearing plaster on his right hand which he cut when breaking the window. Also, F.H. complained that they did not receive a card issued regularly for necessities this month, and she believes that she did not receive a card as an additional punishment for her husband's conduct.
Discrimination against refugees in Sid and Subotica
Discrimination against refugees on various grounds is a problem that is often encountered during APC/ CZA fieldwork. According to migrants with whom APC/CZA team members talked during a visit to the camp in Sid, migrants are often discriminated in shops in Sid when they try to buy something with their cash cards. Migrants receive cash cards with which they can pay for goods, however, as B.J. (25, Iraq) stated, in some stores in Sid sellers refuse to charge migrants for goods through the cash cards, although it is known with certainty that the goods can be paid with the card. Vendors often refuse to sell the goods, making excuses for why they reject the card.
The first signs of refugee discrimination are also evident in Subotica, where hairdressers refuse to provide their services to migrants and refugees.
One example is the J. family from Afghanistan who is staying in a camp in Subotica. S.M. (31), G.J. (39) and their children B.J. (10) and M.J. (12) came to the APC/CZA office on July 22 to confirm the same practices. S.M. confirms she couldn't get a haircut for her children and herself. She was concerned about the problem of discrimination and felt the need to point out that her boys were clean, they knew how to speak Serbian, and she did not understand the difference that was being made with her and her children.
The APC/CZA team works to identify and properly address main discrimination issues through existing mechanisms available under current regulations and in individual interventions in specific discrimination cases.