Serbia has one pre-reception center for migrants – in the village of Miratovac on the border of Serbia and Macedonia ; with three main reception centers – One in Presevo on the border with Macedonia, the second at the border of Serbia and Hungary, Kanjiza (now closed), and the third at the Croatian border near Sid-Principovac. So far five Centers for Asylum have been opened in: Banja Koviljaca, Bogovadja, Sjenica, Tutin and Krnjaca.
The Reception Centers for migrants are transitory, where one is able to receive temporary accommodation, food and water, medical assistance and other forms of support. It is here that migrants also receive a confirmation of their expressed intention of asylum, with which they are presented and assigned their rightful accommodation at an Asylum Center, to which they must arrive within 72hours. The average amount of time to receive a confirmation on intent of asylum is 24 hours.
In the centers for asylum, refugees are provided with shelter throughout the entire duration of the asylum procedure. In addition to accommodation, basic living necessities – clothes, food, hygiene products – are also provided. All asylum centers are of open concept.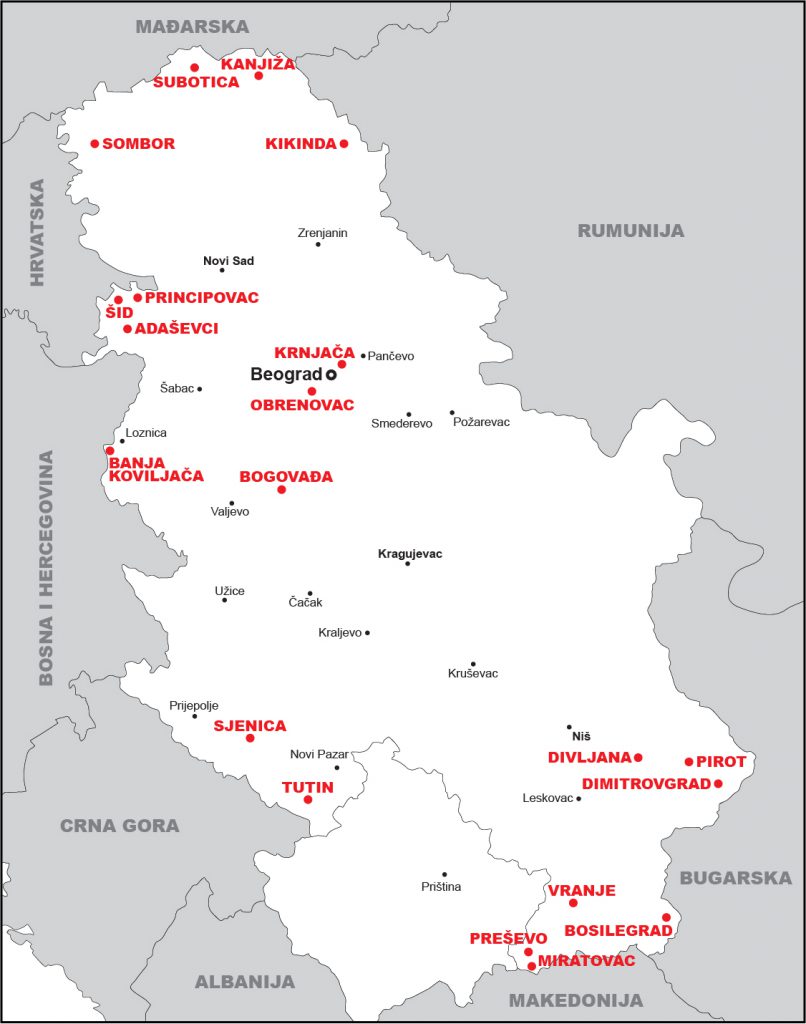 Reception Centers
PREŠEVO
Location: Close to the Serbian-Macedonian border. Distance from Presevo to Belgrade – about 390 km. About 150 km to Nis.
Address: Vase Smajevića 2
Capacity: 1200
ADAŠEVCI
Location: The reception center located on the highway Belgrade – Zagreb is 15 km away from the official border crossing between Serbia and Croatian – Batrovci, or at a distance of 110 km from Belgrade.
Address: A3, Adaševci
Capacity: 750
ŠID
Location: Located in northwest of Serbia, on the border with the Republic of Croatia, which is 7 km away. The distance between Sid and Belgrade is about 110 km.
Address: Janka Veselinovica bb
Capacity: 600
PRINCIPOVAC
Location: Located about 10 km from Šid, close to Sot lake on road number 121, and its located about 120 km from Belgrade.
Address: Principovac, direction of Sot
Capacity: 250
DIMITROVGRAD
Location: On the border of Serbia and Bulgaria. Distance from Belgrade 355km, 470km from Sid. Found on location of old barracks
Address: Sofijska bb
Capacity: 80
SUBOTICA
Location: Located in the north of the Republic of Serbia, along the border with Hungary. Distance from Belgrade 190 km.
Address: Tuk Ugarnice 23
Capacity: 150
SOMBOR
Location: Located in the far northwest of the Republic of Serbia. Interstate border crossings Bezdan and Bogojevo represents a link with the Republic of Croatia and Bački Breg with Hungary. Distance from Belgrade is 175 km. The reception center is mostly accommodate families with children.
Address: Sikara bb
Capacity: 120
BUJANOVAC
Location: Located near Presevo and the Macedonian border. Distance from Belgrade is 360 km. The reception center is located near the highway Belgrade-Skopje.
Address: Industrijska zona bb
Capacity: 250
BOSILEGRAD
Location: Located in the far southeastern part of the Republic of Serbia, with the Bulgarian-Macedonian border. Distance from Belgrade is 388 km.
Address: Blat bb
Capacity: 50
PIROT
Location: Located in the southeastern part of Serbia, near the border with Bulgaria and Macedonia. Distance from Belgrade is 305 km. The reception center is designed to accommodate families.
Address: Beriovacki Put bb (naselje "4 kilometar")
Capacity: 250
DIVLJANA
Location: Located near Divljana village in the municipality of Bela Palanka in Pirot in southeastern of Serbia, 50 km from Nis and 6 km from Bela Palanka. Distance from Belgrade is 284 km. The reception center is designed to accommodate families.
Address: Selo Divljana
Capacity: 150
KIKINDA
Location: Northern Banat district, 10 km outside of the city in the direction of Belgrade, from Belgrade 140 km.
Address: Topolski Put 66
Capacity: 140
VRANJE
Location: At the entrance to Vranje which is the center of the Pčinja District in southern Serbia, from Belgrade 342 km.
Address: Radnicka 2
Capacity: 140
OBRENOVAC
Location: One of Belgrade's 17 municipalities, located at the mouth of the river Kolubara in Sava, from Belgrade 40 km.
Address: Kasarna, Nemanjina bb
Capacity: 750
Centers for Asylum
BANJA KOVILJAČA
Location: North-West part of Serbia. City of Banja-Koviljaca is located 150km from Belgrade.
Address: Narodnog Fronta bb
Capacity: 100
BOGOVAĐA
Location: Around 70 km from Belgrade and 11 km from city of Lajkovac
Address: Bogovadja bb
Capacity: 160
SJENICA
Location: On the road between the city of Novi Pazar and the city of Sjenica. Sjenica is located 250 km from Belgrade. Novi-Pazar is located is 56 km from Sjenica.
Address: Jablanicka bb
Capacity: 150
TUTIN
Location: The city of Tutin is located 322 km from Belgrade and 63km from Novi Pazar.
Address: Vidrenjacka 1
Capacity: 150
KRNJAČA(Beograd)
Location: The suburb of Belgrade. Located 10 km from the city center.
Address: Pancevacki Put bb
Capacity: 200
TUTIN (Velje Polje)
Location: Located in the southwest of Serbia in the Raska district, from Belgrade 332 km.
Address: Velje Polje bb
Capacity: 250