author: APC | photo: APC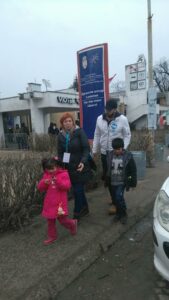 Šid, February 23 – Happiness or luck is really a relative thing. There is no where you can see this more than among refugees. For these people, happiness is to escape the difficulties awaiting them along their journey. Luck is first to survive the violence and struggles of their homelands, then to safely reach the coast in a rubber, overcrowded boat, left over by an uncertain, often story sea, luck is not getting rick along the journey so that they are not among those people who do not have an option to continue, that the borders do not close infront of them so as not to separate them from their family…
All of this great luck and happiness is considered so by Syrian Sham family, who tested their luck in Adasevci a few days ago. We met them there. Father ABusalam, mother Zaynab and their four children – 8 year old Riad, four year old Maryam, three year old Ziad, and five month old Zahra. We found ourselves here when the doctors convinced Zaynab to go to the hospital in Sid with her baby, who got sick and is need of inhalation.
Zaynab is unwilling, reluctant is her husband,  fearing that they will be separated and will fail again to connect. Together with Honey, a noble man from the Commissariat for Refugees, we convinced them that we will take care of them, that they should not be afraid, to wait in Adasevci patiently for Zaynab and the baby. They reluctantly agree frightened and deeply concerned.
And indeed, the baby Zaynab  spent the night in the hospital, the child received treatment and was discharged from the hospital.
Meda prepared their certificates, while Zejnab and the baby were waiting in the Reception Center in Sid. We grab their stuff, put them in a car  with enthusiasm and babbling of the kids driven by Jana, and not some man, and we quickly arrive in Sid. And here we see what is happiness.
Relief, smiles, hugs, cheerfulness. But nothing much has even happened. They just avoided an accident that their child was not seriously ill, that their transit licenses were not expired or that the rest of the family had to go on and that the mother and the baby stayed close to the border, and they remained trapped in Sid …
We do not know what is waiting for them where they went, but at one point this young and warm Syrian family was lucky.