author: APC | photo: APC 
Preševo,26. aprila – Riad is a teenager. He is only 17 years old. He's Syrian. He stayed among about twenty of 700 refugees, as many after the closure of the Balkan route were found in the reception center in Presevo.  Many of them, in the meantime have left. Riad stayed. Currently for him, all roads are closed. He can not cross over a single border leading to Germany where his brother waits and where he along with his  father left towards from a small town on the border of Syria and Iraq about three months ago. There is no money to get in through an illegal path with smugglers who promise a path to the finish line.
But Riad is alone. He is unhappy and frustrated. His story is truly dramatic. Luck turned its back on him about tend days before the closure of the Balkan Route. With a transit confirmation that they received in Macedonia, he and his father arrived in Sid, where they waited for a train to reach Germany through Croatia, Slovenia and Austria.  They had an open road in front of them – they were Syrians from a city on the border with Iraq, with proper documentation. But suddenly Riad's father became sick. He died here in the reception center in Sid. The boy was left alone. It took seventeen days to complete all procedures so that Riad's father could be buried in Sid, and by then the borders had already been closed for Riad. He could not go further. He was returned to Presevo. The decisions made at the EU and Turkey Summit do not deal with individual cases and fates. There is no room there for Riads drama, a dead father, a ruined home in Syria, a brother waiting for him in Germany…
It's hard for this young man who was left very early on without his parents, to understand the situation he is in. It is difficult for him to accepts that he, just days before the decision to close the Balkan route, was regarded as a refugee who life was endangered and who needed and deserved to settle in Europe, overnight, was found among people whose destiny had become uncertain, which left him alone with himself.  He can not let go of the feeling of great injustice and to give up hope that slowly leaves the inhabitants of this reception center, but will continue onwards.  He deeply believed that his case would somehow be solved. He also believe that he could be assisted by numerous visitors and humanitarian/international organizations, representatives of embassies he spoke with…that they would be able to help him. But he is just one of the countless refugees who underwent tragic experiences…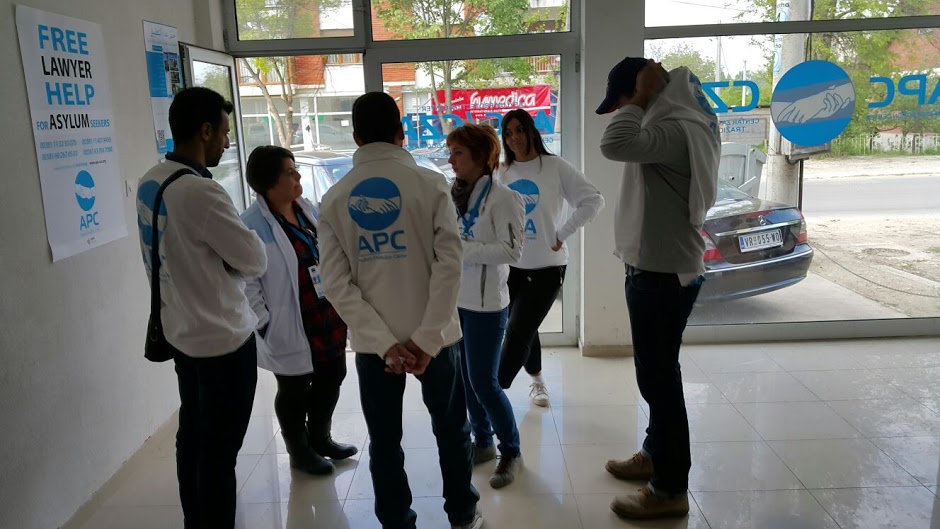 Now he trusts almost no one. We carefully approach him and are building up his trust. We do not give up, although Riad, like all teenagers is impulsive, easy to anger, sometimes a bit stubborn saying "you are psychologistsm so will you help me!" He then explains how he was mistakenly sent to Presevo, how he should be let out, that it was an injustice to put him there and he talks about how he will return to Syria because there is no other solution for him. "Let me die", tells us like a real child. We are trying to convince him that between these two options – a return to Syria where he may die or Germany where he can't currently go to, there are some other options. We try to console him and get him used to the idea that he is where he is, to accept reality, and then to seek solutions.
He is young and in need of support. Longing for warmth.
Samir, a twenty year old young man who lost his hand and leg in a shelling of Aleppo and who, with unseen strength, is aware of the reality he is in, is trying to help him with us. He talks to him, tell him of his own experiences, he picks him up and cheers him up when he is sinking. Through Samir, who has a cellphone everyday we find out how Riad is doing. He tells us with pride and joy that the boy started eating. He convinced him after a few days of Riad not wanting to eat a crumb of bread, to put it in his mouth and that he had to eat. At the end of each conversaition Samir always tells us – "Do not worry, I am here."
Thus, this wounded man, without power and certainty because the backbone of a disappointed and lost boy who still deeply believe that he has the right to go to his brother in Germany.
His arguments are serious in nature – he escaped death, lost his father and is only seventeen.
He has the right to life and we do not give up on him and his efforts to fight through the turmoil.