author: APC | photo: APC  |
 Krnjaca, Preševo, Sjenica, May 22 – When our translator Saker, in Arabic addressed the fifty year old woman who sat alone in the corner of the Asylum Center in Krnjaca, she immediately began to cry.  With the ends of her scarf she wipes her tears and looks hopefully at the translator and our team who came, like every other day to see if we can somehow help these people. We heard she had just got here. She's from Syria. She tried to cross the border in Croatia with her son and pregnant daughter-in-law. Her son and daughter-in-law passed through, she did not.
"I could not run fast", she repeats to herself. "They do not let me go after them now. And I am their mother, so why are they not letting me!?" the unhappy woman who no longer cares for where she is. She only cares about being with her family. And she does not see why it's impossible.
Hadia can not understand, as she told us her name, the laws and regulations that prevent a mother to go be with her family. She can not understand she is stuck in a country, and does not where and how she will continue; that he Samir and pregnant Fatima in neighboring Croatia, which is not their main destination, should not be heard from, and how people are not hearing her request and please to be with her children… We listen to her and calm her down, introducing her with the laws and how she can regulate her status in Serbia, but she does not listen. She only weeps "Why did I not run faster…why…" Our psychologist calms her down, takes her phone and gives it to the interpreter to call her son. They talk, which calms her down. He tells us that he is in a reception center in Croatia, and is begging for us to help…This conversation encourages the displeased woman, but it will take time to calm her down and to decide what to do next.
Everyday in our visits to refugee camps and asylum centers from Subotica, Sid, Krnjaca, Banja Koviljaca, to Presevo, Sjenica and Tutin we meet these unfortunate people, and listen to their troubles and dilemmas…. Their stories vary, and again are the same – after the closure of the Balkan route, they remain stuck in Serbia. They do not want to stay here. Their goal is Germany, Sweden, the Netherlands…Many of them are already there, and have family members in these countries. When they began their journey, Europe was open to them. Now they are no longer welcome. They do not know what to do… some of them are waiting to travel through smugglers, some have no money and are considering applying for asylum in Serbia.
We help. We inform. We hang out with them. We strengthen them. We draw from them their most positive aspects, and encourage them to deal with reality and in the circumstances, find the best possible solution for themselves.
Zacharia is 25, a graduate of bioengineering from Aleppo. From Damascus, from the suburbs of Kabuna, where the first protests of the opposition the Syrian capital against the Asad regime began. This determined his distant destiny.
We meet with him in the reception center in Presevo. He's alone in the room. He chose to be alone. To gather his thoughts and see what to do next. He began his journey in mid-January and failed to leave Serbia. The Balkan Route was closed, and he remained here. Stuck inside.  Neither here nor there.  He carried a heavy weight on his back. His family resents him for leaving. And his mother, who is a doctor did not want him to leave Damascus. She said "Your father is in prison. Who will go visit him? We can't just leave him? There are not enough doctors to heal the rebels. They need me!"
His brother, who also did not wish to leave his parents was recently arrested. They imprisoned him because Zacharia fled.
"But I had to leave" he said, "they arrested me twice".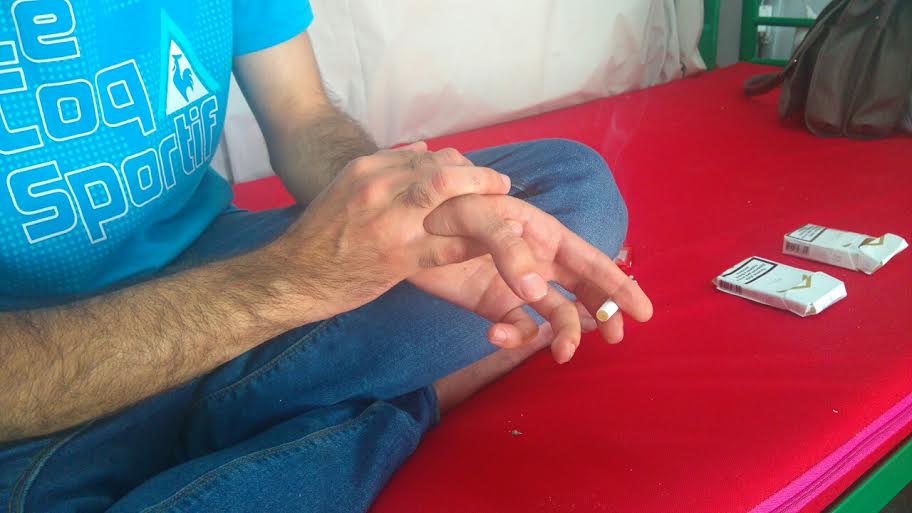 He says he did not participate in the conflicts with government forces, but after his father was first arrested, he was identified as a potential opposition and his first arrest was in 2012 in a mosque where he was with friends, and the second, last year in a playroom where he was once again with friends. The first time he spent 11 days in jail, and the second 42 days. He was tortured, they handcuffed him and hung him by hands for 24 hours, 30 centimeters off the ground, holding him in a room 1×2 meters, with 70 other people, pushing him to admit he worked with the rebels…he made it through that and they let him go. When he returned home he said he did not talk about his torture.
Nobody even asked. Because it was easier to stay silent. Only his grandmother made a comment- Zacharia was lost for a little bit, and then he returned once again.
He tells us of how he fled Damascus. How he managed to fly to Beirut, and then travelled by place to Istanbul. "When I entered the place for Istanbul I felt an enormous relief, and when I looked into the mirror I saw that I had aged 6 years. He did not think his troubles would continue. From Istanbul, he says, by truck he reached Izmir, then crossed the sea to Lesbos. The smuggler of refugees, including Zacharia, boarded his ship, where the smuggler suddenly got scared and left them to fend for themselves. Before he escaped, he gave instructions to Zacharia to manage the boat. He did it. He went onwards and arrived in Serbia. Going further was no longer possible.
Zacharia is again a "little lost" now. He is most troubled by the fact that his brother was arrested because of him. He brought medicine from Damascus in his bag. He holds onto invisible strings from his home and now he can not go back nor can he go further. He sits in Presevo and waits. He says we are the first he told of his life story.
It's not over yet. Zacharia still has hope. He shoes us the diploma he has translated into English. In it all 9's and 10's. He holds onto his trump for a new life, believing that the doors would be open for him, if it won't already because of his sufferings and death threats from which he escaped. Zacharia enjoys talking to us and he often asks us – if he can work in Serbia if he receives asylum. Because there is no return for him.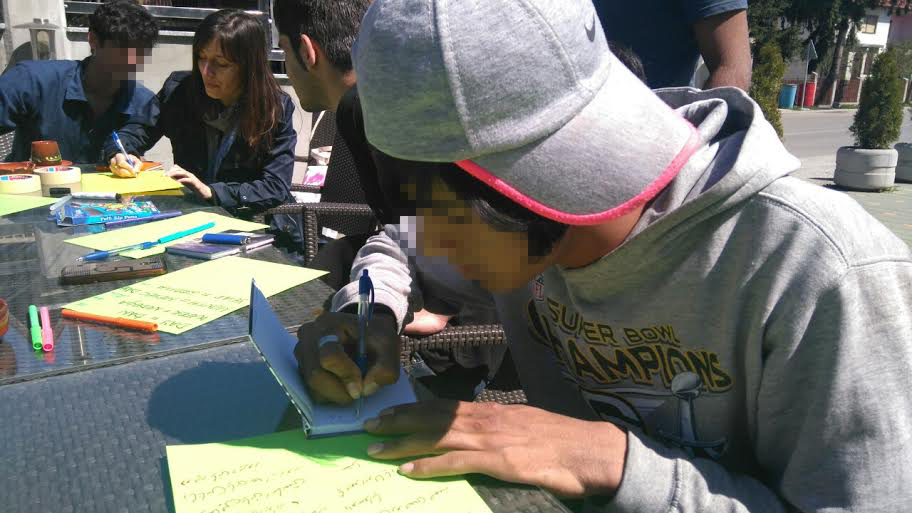 But nineteen year old Ahmed, and Afghan from Iran who we met in the Asylum Center in Sjenica, decided to return. He as well is struggling with a multitude of worries. One of them is also love. He, his girlfriend, and her mother started on their journey towards a better life from Shiraz. On the Croatian-Slovenian border, on checking with a translator, his future mother in law said that they were a family and Ahmed was sent back. The betrayal made him just as sick as the fact that he remained on the other side of the border, that he had lost his love and dreams of a secure life together. He was sent back to Serbia and now is accommodated in Sjenica. He tells us that he decided to return to Afghanistan. His decision seems to be to return to a country in which he did not live a bit desperate, but he made his decision.  He says that even for that one needs patience. It's not easy to go back. He awaits answers from the Embassy of Afghanistan in Vienna and Sofia.
We are the people that no one is happy to see. Not even those who see us return. I guess because this is not our choice, but our defeat, said the beside himself young boy.