author: APC | photo: APC 
Kelebija, May 29– When we saw, what we guessed, was a thirty five year old man, with a four year old boy who he held firmly, he hurried to meet us with a smile on his face. He looked at our tshirts with the APC/CZA emblem and in perfect english asked: "Where is my friend Hana?"
We meet him in no mans land near the border crossing at Kelebia, where an open checkpoint is being nipped for refugees, mostly from Syria, but also from Afghanistan, Iraq, Pakistan, Morocco… who are waiting for approval to enter Hungary.  Around us, small tents are put up with many children running around them. There are a lot of families here with young children. The conditions are horrible. More than 150 people across this empty land, surrounded by wires, without electricity, water, and no hygienic conditions…They are all waiting for the line, and believe that they will legally cross the border, with Hungary officially accepting 60 asylum seekers per day. However, in actuality for months now, Hungary has been accepting 20 asylum seekers. These people do not want to move away from the border crossing or accept accommodation in the center in Subotica, because they fear that they will lose their spot in line, that is in fact nonexistent.
Waiting is Eshraf, the man who, guided by the logo on our T-shirts presented himself warmly to us between the tents and drying laundry. We found out that he was in Krnjaca and that he spoke with our psychologist Jana several times. She was asked to help him deal with the situation where he was left alone on this journey with his son. He says, Jana helped him a lot. "I need someone to talk to him," he explains. We call Jana first by phone and then we listen to Eshraf's refugee story.
Eshraf is a journalist. He's from Kabul. With his family – his wife and three children, more than two months ago, they set off on a journey to Europe. They travelled through Turkey to Bulgaria. He traveled with a large group of people. On the way, his youngest son Peyman, asked for a toilet. He took him nearby to a creek near the road. When he returned, the people he traveled with were gone. As were his wife and children.  For a month, this unlucky man with his boy who did not stop pleading for his father to take him to his mother, tried to find out where his family was.  In the end, he found out that they had been deported to Turkey. Distraught he had to decide what to do next. He continued to Serbia. He believed that Europe would open its doors to him, and then somehow he would manage to bring the rest of the family. But it is far more difficult than that. Too difficult. His son accuses him of losing his mom. He shows resistance to his father, knee jerking, running away…he shows all signs of a child who was separated from his mother and who is undergoing stress.
Eshraf works hard. He says at moments, he wants to cry out "it's not my fault, you're the one who's guilty…" But he stops himself. He kissed the boy on the head, watches to provide him food, feeding him, giving him clothes. But he can not put shoes on him  Peyman won't let him take off his shoes. It does not matter whether there's rain, mud or new colorful shoes and boots that are offered to him. He's been wearing his crocks since Bulgaria. He was in them when the family had been together.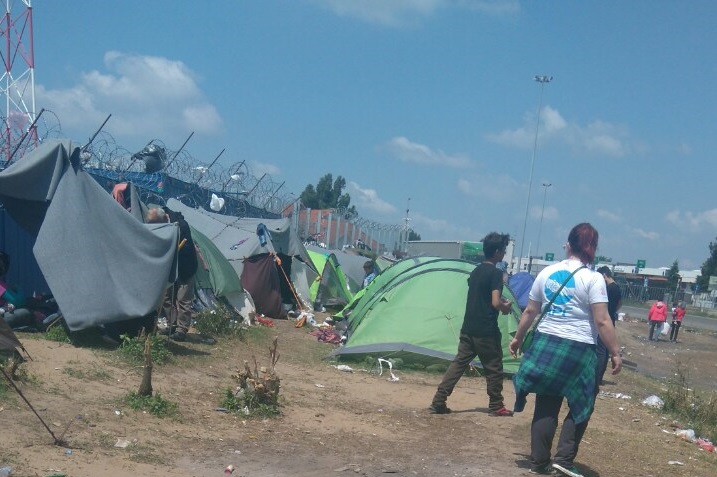 The father and son have been here for a week. They expect the doors through which they have to cross to open.
Others wait even longer.
We know many of these people. We met with them, spoke to them, helped them in Presevo, Krnjaca, parks near the bus station in Belgrade, in Sid.
We know the Moroccans Tusina and Salem from Krnjaca. Salem is in Kelebia for three months. He looked like a living corpse. No amount of money to get smuggled over the border could help him. All of his hope is on a legal passage. And he did it. Today we received a message from a reception camp in Hungary with photographic evidence: They let me in. I'll be here for 28 days and then we will see, I will let you know.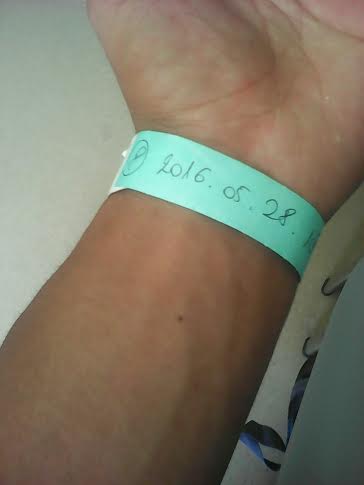 Amar, a Syrian doctor, did not have such luck. We met him when he came out of a passage between the two border, like most of the others, to a nearby shop to charge their mobile phones.  He's red in the face, "I'm not good. I need a neuropsychiatrist. I've lost it. Lost it" He does not want help from Doctors without Borders. He is headed towards Germany. His family is there. Until the last moments, he was always helping others. Now he is here, under the clear sky, enclosed by wire, in a meadow, without water, internet, that would give him information, without any hygienic means, with little hope that he will cross the border into Hungary, because he is alone, and families have a priority…he doesn't look good, he is losing his self-control, and is aware of it.
Only an hour ago, we saw a young boy from Syria who had an epileptic seizure. The people who are with him say that he has two or three of them a day.
How do we help these people? We talk, listen, advise…It is very important that someone listens to these people, to hear about their dramas. To understand them.
All of these people are fantastically determined to endure the hardships and move forward. Some of them are attempting to cross over the wire. In Krnjaca, and the park in Belgrade, we meet with those who failed. Twenty two year old Afghan Ismail has both of his arms wrapped up. He was attacked and bitten by dogs who were unleashed on the group in which he was trying to pass through a wire that was placed along the border with Serbia and was left by the Hungarian police. A boy from Afghanistan in the park shows us the scars and cracked skin from the beatings he received from the police at the border. he does not have the courage to try again. He will go to Kelebia.
Here, everyday there are new, all too many groups of people. They stand at the door through which they must pass to countries where family members often await them. They wait and hope. They say – I can not go back.