IZVOR: Blic 11.april 2014.
High school "Vuk Karadzic" and the Asylum Protection Centre APC / CZA, in collaboration with the Asylum Center in Banja Koviljaca, hosted the exhibition "Distant world in our city" on April 11th, 2014.
Exhibition includes photos, stories, ceramic figurines, jewelry, drawings and other materials created during the creative, psychological, cultural and health workshops that are conducted by the Asylum Protection Centre in asylum centers in Serbia.
During the exhibition, visitors could hear the popular music from the West African countries and to socialize with the young asylum seekers from the Asylum Center in Banja Koviljaca who were also present at the opening.
Photos from the exhibition can be seen HERE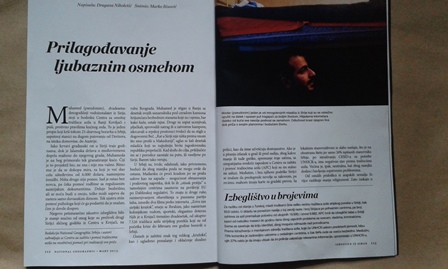 "I've been here for seven months and I like the people I meet. I have no problems and this exhibition is a good way to establish communication with local residents. I presented myself with the drawings in which I showed the countries through which I passed on my journey", said Algerian Mustafa (30).
His peer and compatriot Yusuf who arrived in Banja Koviljaca in September, has a plan to join his family which is in France.
"I went through five camps in Austria and Hungary, but nowhere was that good as it is here. This exhibition is a great idea", said Yusuf.
Robert Lesmajster, manager of the Asylum Centre in Banja Koviljaca, points out that it was never organized something like this.
"This is a nice story about asylum seekers, which spreads multiculturalism and understanding for people who have a completely different kind of problems compared to us. Currently, almost all capacities in our center are full, but from time to time we have a few available places. The current state is not closely similar to that of a few years ago", said the manager.
Exposed works reflect the emotional state of children and young asylum seekers, fond memories from their homeland. On the other hand, there are fears, expectations of the future, but also creative use of time during their stay in Serbia.