Text: APC  Photo: APC
Bujanovac, Presevo, Vranje, July 20, 2019 – APC/CZA mobile team regularly visits border areas in southern Serbia, as well as transit and reception camps for migrants and refugees in Presevo, Vranje, Bujanovac, Pirot, Nis, Dimitrivograd and elsewhere. They represent the first contact point for migrants and refugees who enter Serbia across its southern borders, providing them with information, legal assistance and assistance with registering at a police station, obtaining registration papers with which they can be accommodated in one of the receptions or asylum centres in Serbia, they can express their asylum intention, report corruption, discrimination, smuggling, crimes and human trafficking. In addition, the APC/CZA psychosocial team provides psychological assistance and empowers migrants, helping them to get appropriate health care, to obtain a caregiver if they are unaccompanied minors, to obtain social care and assistance from local welfare centres, but also empowering them to overcome their existing challenges.
The APC /CZA collects information about the situation in camps, about living conditions of migrants and refugees and their treatment by camp administrations, representatives of institutions and citizens, on respect for asylum seekers and migrants, their problems, potential discrimination, violence, trafficking, smuggling, push-backs and other challenges of asylum and migration.
Through fieldwork, talks with migrants and refugees and insight into the local situation, from June 25 to July 19, 2019, APC / CZA officials identified current problems, challenges, and practices in the southern areas and at the borders of Serbia.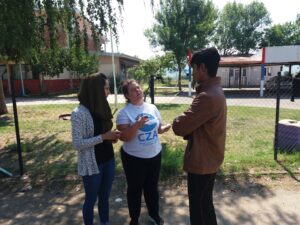 KIRS places newly arrived refugees in a barrack set up in front of Bujanovac camp
APC/CZA staff members visited the camp in Bujanovac on July 2 and talked with B.S. (24, India), B.S. (26, India), M.S. (35, Pakistan), A.R. (25, Pakistan) and J.A. (28, Pakistan), who arrived in Bujanovac that morning. The refugees told APC/CZA staff that the officials of the Commissariat for refugees were accommodating newly arrived refugees in a barrack (an accommodation container) which was set up in front of the camp in Bujanovac. According to the statements heard from refugees, migrants who are placed in the barrack are waiting for a doctor to examine them before placing them in rooms in the camp.
Push-back of Serbian police to Macedonia
During the visit to the camp in Bujanovac on June 25, APC/CZA staff members spoke with K.Z. (27, Pakistan) who entered Serbia from Macedonia on June 22. K.Z. entered Serbia in a group of 5 people from Pakistan. At the time the APC / CZA officers spoke with K.Z., he was not yet registered with the police, and he arrived at the camp in Bujanovac with the help of the locals who directed him to the camp. According to K.Z., he entered Serbia with a group of 4 Pakistanis on June 22 and arrived at the police station in Presevo. There, police told them that they had finished with refugee registration for the day and then drove them to the border and told them to go back to Macedonia. Police left after they were left at the border, and 4 hours later K.Z. and his friends tried to re-enter Serbia and this time they went directly to camp in Bujanovac.
A group of 16 refugees from Pakistan came to the APC / CZA southern office in Presevo on June 26, 2019: M.K. (21), M.S. (20), G.A. (37), P.A. (25), H.A. (22), S.A. (19), D.M. (22), Y.I. (19), S.S. (39), S.A. (27), M.Y.H. (23), H.S. (29), Z.A. (29), O.M. (18), I.M. (34) And H.N. (22). This group entered Serbia from Macedonia, near Miratovac during the night of 25 June 2019. During that night, they were returned twice from the Macedonian border by Serbian border police. Border police officers were not violent towards the migrants, they were only told to return to Macedonia. They managed to enter the same night, from the third attempt. At that time, they were captured by police in a village near Presevo and taken to a camp in Presevo, and during the day (26 June) they were registered and assigned to go to a camp in Vranje. APC / CZA officers informed them how they could reach the camp in Vranje.
While visiting the camp in Vranje on July 19, APC/CZA officials met S.H. (28, Algeria), M.N. (38) from Algeria and E.S.I. (19, Morocco) who entered Serbia from Macedonia on July 16 from the direction of Miratovac. The management of the camp in Presevo did not allow them to enter the camp and they were instructed to go to the camp in Bujanovac. They then tried to register at the police station in Presevo, but the police also directed them to go to a camp in Bujanovac and they told them that they would be registered there. They headed towards Bujanovac and were captured by border police on the way to Bujanovac. Police asked them to show the registration papers, and they told the police that both members of the Commissariat for Refugees and police in Presevo had sent them to a camp in Bujanovac. Police then put them into their car and drove them to the border with Macedonia and told them to return to Macedonia. This happened in the evening, and this group of migrants waited for several hours before trying to enter Serbia again, this time hidden under the train. When the train stopped in Nis, they were caught by police and sent to the police station where they were registered. The police sent them to a camp in Vranje, where the APC / CZA officers met them.
Chain push-back from Slovenia to Croatia and then to Serbia
On June 25, 2019, APC/CZA officers spoke to A.R. (26, Pakistan) while regular visits to camp in Presevo. He was staying in Principovac (18 months) and Kikinda (6 months), but after several failed attempts to cross borders, he decided to return to Greece. During the time spent in camps, A.R. tried several times to cross the border with Romania (3 times), Hungary (3 times), and last time, a month ago (late May), he went to Croatia from Bosnia, from where he moved to Slovenia. He was deported back to Croatia from Slovenia, and then push back to Serbia. A.R. stated that Slovenian police officers captured him near the border with Croatia and immediately handed him over to the Croatian police, who drove him to the border with Serbia by car and told him to go back. A.R. said they brought him to the woods and pointed in which direction to go. He did not know the name of the places where he was spotted and deported. During these push backs he did not express asylum intention, nor was there any communication between him and the police.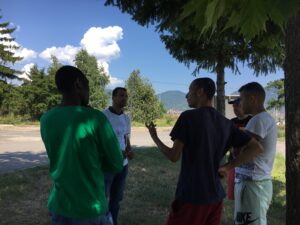 Push-back of Bosnian police at the border with Serbia
While visiting the camp in Bujanovac on June 27, APC/CZA staff members from the southern office spoke with I.K. (49, Iraq), who tried to enter Bosnia and Herzegovina with his family (a woman and two children) on June 25. He said that eight of them crossed the Drina in a three-person boat. As they crossed the border, police spotted them while they were waiting for a cab to come to pick them up. I.K. said that the first group of people who went with the smuggler took a taxi to Sarajevo, but that he and his family and two other refugees from Iraq remained in the woods where police caught them and took them to the Serbian coast by boat. I.K. states that the Bosnian police left them in the woods, and it took them 10 hours to reach the first village using GPS on a phone that had one of the refugees. In the village (they do not know where it is or what its name is) they came across a guy who called a taxi that took them (it took about an hour and a half) to the train station, where they travelled by train for 3 and a half hours and reached Belgrade. I.K. did not know the name of the place from which they travelled but says the conductor acted as if he had experience with migrants. I.K. and his family took the bus back to Vranje from Belgrade.
H.A.A. (24, Palestine) left the camp in Vranje in early June and tried to cross the Serb-Bosnian border across Mali Zvornik 5 times in the last month. H.A.A. was pushed back by the Bosnian police 5 times. Each time, the police beat him, then took his money and return him to Serbia via boat across the Drina. There was no communication between him and the police, except when he was told to return to Serbia. H.A.A. then returned to the camp in Vranje, where he was met by APC / CZA officials on a visit to the camp on July 8.
Refugees in the camp in Vranje are forbidden to leave the camp after 6 pm
During a visit to the camp in Vranje on July 12, APC/CZA officers talked with M.H. (24, Afghanistan) and M.B. (29, Iraq) and learned that yesterday, July 11, the camp administration informed the refugees that they could leave the camp only with a permission from camp administration, between 10 am and 6 pm. The rule came after a woman in Vranje complained to the camp administration that a Pakistani refugee had harassed her daughter on a street in Vranje. According to the refugees, the woman reported the case to the police and the police were coming to the camp and interrogating the refugees, and the said Pakistani was expelled from the camp. Police have been touring the camp every half hour since the incident was reported.
Railway workers refuse to sell tickets to migrants unless they have a police registration paper
S.A. (19), N.H. (21) and H.S. (19) from Bangladesh entered Serbia from Macedonia on July 17th. APC / CZA officers met them near the railway station in Presevo. None of them are registered with the police. They said they wanted to go to Kikinda because their friends were accommodated there. APC / CZA officers helped them talk to a train station employee to check if they would be allowed to enter the train without police documents, but a train station worker said it was not possible. They were given information about the location of the police station in Presevo and were instructed to go there and register so that they could be accommodated in the camp or continue their way.