edited: APC             foto: APC
BELGRADE, AUGUST 9 – The works of Raj and Manik Shinge, famous Indian artists, were recently on display in the "Stara Kapetanija" Gallery in Zemun, and among the pictures that visitors to this gallery could see were several paintings that were created in the joint collaboration of migrant children and children from Serbia. (English version below)
Namely, Raj and Manik Shinge did not only represent their work in Serbia, but also provided great joy for the children at the Asylum Center in Sjenica, but also for a whole group of people in love with art and creative people who, as migrants, stay in the camp in Krnjača under conditions and circumstances that erase almost everything that is their identity.
They spent two days in Sjenica with painter from Serbia, Zorica Tasic, where she and the refugee children from Afghanistan and Iran, who were located in the nearby center, were painting on natural paper, which Raj Shinge brought for that occasion from India.
They painted, made and played with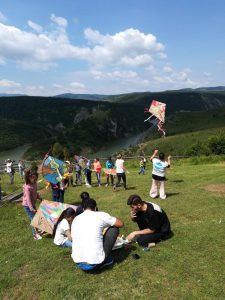 kites in the Uvac canyon, and a dozen works that were created during a joint gathering were presented during their showcase in Zemun.
The whole event, or creative workshop, was put in action and organized by Asylum Protection Center(APC / CZA) in cooperation with the Primary School "December 12th" in Sjenica, that teachers and parents also took part.
For the refugees, but also for the children from Sjenica, this was a unique experience, and the parents of refugee children who did not hide their joy and unanimously agreed that this event, and especially a trip to Uvac and the release of kites for their children, was the happiest day since they left their homeland.
They talk about refugee camps they stayed in, in Jordan and, say, they shook them to the core, but they did not give up on life even when its full of sadness, renunciation, doubt, hopelessness, as they search for joy. And that's exactly what they did in socializing with children, and later in the Kapetanija Gallery and with a group of fifteen migrants who were placed in the Krnjača camp.
Alongside APC, people who love art came to the gallery, among them a calligrapher, one painter, designers, professors, former employees … all of whom are refugees living in Krnjaca.
It was for them, as they say, a perfect evening. They spoke for a long time with the artistic Shinge couple, but also  to visitors of the gallery … They talked about art, the countries from which they came, about what they lack … Indian artists encouraged them, motivated them.
You must embrace who you are and fight for the things you want to achieve, regardless of where you live, Raj repeated.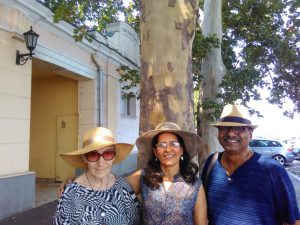 Raj and Manik Shinge are famous artists from Mumbai, India, whose art spreads through the world at various levels and spheres, from terracotta sculptures to video installations exhibited in New York's galleries. "I learned … I studied … and discovered how to use art for society," Raj Shinge states on the artist's official website. Manik Shinge worked in Argentina, Sri Lanka, Dubai, China and Greece, including nature and society in his artistic expression