In a collaboration with the Primary School "Mile Dubljevic" and cultural center "Hadzi Ruvim", the Asylum Protection Center (APC / CZA) has organized Asylum Corner in the Youth Club on January 30, 2014. The pupils of the seventh grade and four children that are asylum seekers participated in the workshop about friendship and qualities that we value in friends, that was organized as part of the civil education. At the end of the workshop, participants gave each other the friendship bracelets as a symbol of the friendly connections that they made.
For more photos you can look at www.azilbogovadja.rs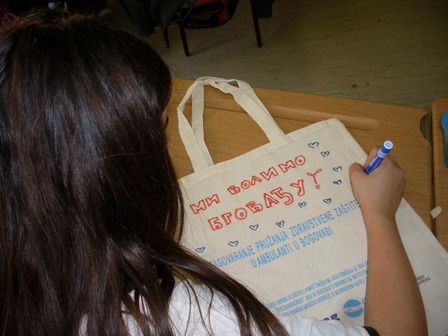 APC/CZA organizes the Asylum Corner within the project Intercession in providing primary health care for asylum seekers and citizens from the local community in a rural clinic in Bogovadja, whose implementation is supported by the Trag Foundation, under the "Civil Society for the Future", which is being implemented in collaboration with the Institute for sustainable Communities (ISC), and with financial support from the U.S. Agency for international Development (USAID).